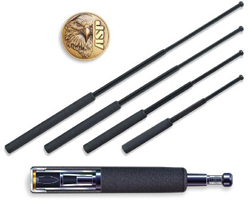 ARMAMENT SYSTEMS & PROCEDURES (ASP)
Tactical Baton Basic Certification
The ASP basic Certification (ABC) is a 6-hour, hands-on seminar which trains participants in the operational use of the ASP Tactical Baton. The program is simple to learn and easy to understand. It provides effective defensive impact weapon tactics for law enforcement and private security personnel, as well as responsible civilians as well as responsible civilians who are looking to augment their use-of-force options without long hours of training. The techniques were designed to work effectively for all users, male and female, large and small, fit as well as those in less-than-peak physical condition.
The program provides portation (carrying) and presentation (drawing) procedures as well as striking techniques. These tactics are quickly learned, easily practiced and readily maintained long after the program is completed.
The ASP Tactical Baton is designed to be used as an impact weapon, not a come along device. There are no complicated holds or complex moves.
The impact weapon techniques in all ASP Tactical Baton programs are designed to meet three standards of training:
The techniques work on the street, not just in the classroom.
The techniques are court defensible and are backed by the nation's most experienced use-of-force consultants.
The program is administratively feasible for use in a contemporary private security or law enforcment agency.
During this 8-hour certification program the student will learn:
Use of Force Continuum
Portation (carrying)
Presentation (drawing)
Striking techniques
Mechanical function
Maintenance of the ASP expandable baton
Legal considerations of use of force
SOPs for incident reporting
PREREQUISITES: Students should be in good physical condition as this course involves strenuous activity.
EQUIPMENT: Duty belts are required, or a sturdy belt capable of supporting a baton and scabbard. Students MUST have a ASP-brand baton (21" or longer) and scabbard.
CLASS TUITION: $125.00
Tuition includes all classroom material.